For optimum results one requires a professional, regardless of the task at hand.  MNM Multi Projects are just the pros to contact for homeowners who want professional, accurate and personalised services to make their homes look not only good, but great.
Working across Johannesburg and the entire Gauteng spectrum, MNM's services include house/building plans, aluminium windows and doors, glazing and repairs, plastering and painting, kitchen- and bedroom cabinetries, estimating and tendering functions, municipality/council submissions and approval of house plans, 3D drawings, etc.
And speaking of 3D, let's take a look at the renderings that these professionals undertook for this architectural project in Fourways.
The (open-plan) heart of the home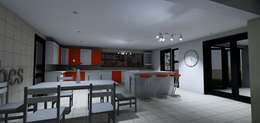 FOURWAYS PROJECT
What better space to start off than the kitchen? And what better space to have a kitchen than in an open-plan layout?
Here, the modern-style kitchen flows seamlessly into an adjoining dining area, with a soft neutral colour palette ensuring a strong visual link between the spaces. Hot reds sprinkled into select furnishings and décor pieces complete the contemporary look perfectly.
For this bedroom, a contemporary-meets-minimalism style was chosen. Although the main colour palette is made up of neutrals (similar to the open-plan kitchen), this space enjoys a slightly cooler vibe – additional hues are a combination of blues and reds rather than only reds.
Perfect for socialising
We take a quick look at the main party space outside: the swimming pool (what else?) and spacious lawn that is sure to become the highlight of this family's lifestyle. Generous glass doors and windows ensure a visual link between the indoors and outside area.
This bird's eye view of the house (sans ceiling/roof) allows us to see how the various rooms flow into one another. And it's not difficult at all to spot the culinary zone – it's the only area which flaunts those red-hot touches!
Let's take a look at some more renderings that speak of this sublime design…